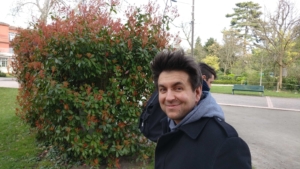 Hello !
I am Thomas, sound designer from France. Currently working at Novelab since about 5 years.
I graduated from Saint-Etienne Master R.I.M. (Computer Music / Réalisateur en Informatique Musicale) in 2014.
Since then I've been working at Novelab as a technical sound designer where I've been part of award winning VR projects such as Notes On Blindness or Unrest.
Working there allowed me to do projects going from linear 360 videos to complete VR experiences.
As an interactive sound designer I love every part of the sound creation process with my favorite being the integration into game worlds which is something I can do with Unity using C#,Wwise or FMOD and with UE4 using blueprints, Wwise or FMOD.
On the personnal side I am, like many people in this industry, a big player (especially in my younger years !) and I am a huge fan of fighting games in particular.
I am a guitar and ex-drums player, passionate about metal music, I love going to concerts!
Other than that I love the usual TV shows/Movies/Having a drinkwith friends (the triforce of hobbies) !
I also enjoy to learn new things to improve myself and am currently following some online classes for UE4 C++.
Feel free to send me a mail if you want to talk, it's right here on the left if you're on a computer ! If you can't see it, fear not ! You can also get it from my resume.