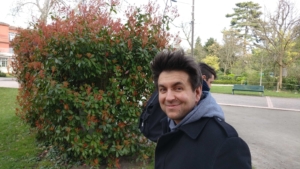 Hello !
I am Thomas, « Technical Sound Designer » from France, currently working at Ubisoft Paris.
I graduated from Saint-Etienne Master R.I.M. (Computer Music / Réalisateur en Informatique Musicale) in 2014.
Right at the end of my studies this I was fortunate enough to win the G.A.N.G award for best student sound designer.
After that I've worked at

Novelab

for a little over 5 years as a « Sound Designer » and « Technical Sound Designer ». There I've been part of award winning VR projects such as Notes On Blindness or Unrest.
Working there allowed me to do projects going from linear 360 videos to complete VR experiences.
Since August 2020 I've joined Ubisoft Paris as a « Technical Sound Designer ».
As an interactive sound designer I love every part of the sound creation process with my favorite being the integration into game worlds which is something I can do with Unity using C#,Wwise or FMOD and with UE4 using blueprints, Wwise or FMOD.
I have a strong interest in the technical part of the job and try my best to improve at sound design but also at programming on my own time.
On the personal side I love to play games and I have a been playing a lot of the competitive types of games such as MOBAs and fighting games.
I am a guitar and beginner drums player, passionate about metal music,
On this website you'll find my demo reel, my portfolio and informations on my personal projects, I hope you'll enjoy it!
Click the icon to download my resume :